Holiday in style with an extra £50 off your next Labranda Holiday!
Come with us and stay at one of the fabulous Labranda Hotels & Resorts and you can be assured of a relaxing holiday and great memories for the whole family.
All Labranda properties offer All Inclusive stays and many offer kids clubs giving the children (and the parents) plenty of options to enjoy the time away.
With complimentary Wi-Fi, you can remain in touch and with prices to suit all budgets, there is a Labranda Hotel or resort, that will suit your pocket.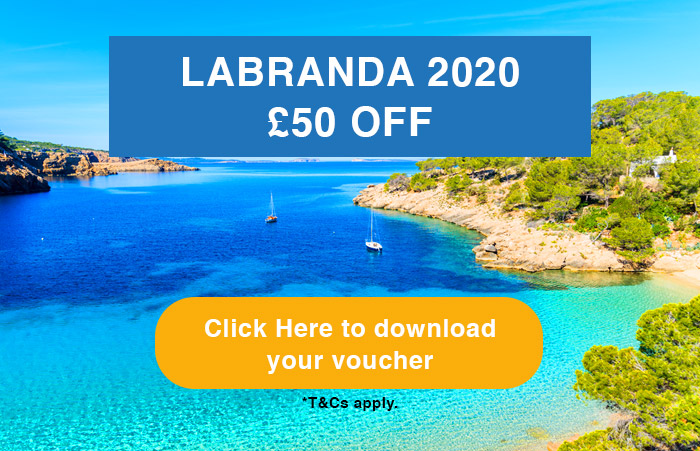 Corfu | Labranda Sandy Beach
Prices from £209pp
Based on 7 Nights, All-Inclusive, Including Flight & Hotel
Select
Morocco | Labranda Targa Club Aqua Parc
Prices from £209pp
Based on 7 Nights, All-Inclusive, Including Flight & Hotel
Select
Morocco | Labranda Rose Aqua Parc
Prices from £219pp
Based on 7 Nights, All-Inclusive, Including Flight & Hotel
Select
Greece | Labranda Marine Aquapark Resort
Prices from £259pp
Based on 7 Nights, All-Inclusive, Including Flight & Hotel
Select
Turkey | Labranda Mares Dolphin Park and Spa
Prices from £219pp
Based on 7 Nights, All-Inclusive, Including Flight & Hotel
Select
Morocco | Labranda Amadil Beach
Prices from £289pp
Based on 7 Nights, All-inclusive, Including Flight & Hotel
Select
Tenerife | Labranda Isla Bonita Hotel
Prices from £299pp
Based on 7 Nights, All-Inclusive, Including Flight & Hotel
Select
Fuerteventura | Labranda Bahia de Lobos
Prices from £289pp
Based on 7 Nights, All-Inclusive, Including Flight & Hotel
Select
Malta | Labranda Riviera Premium Resort and Spa
Prices from £459pp
Based on 7 Nights, All-Inclusive, Including Flight & Hotel
Select
Lanzarote | Labranda Alyssa Suite Hotel
Prices from £359pp
Based on 7 Nights, All-Inclusive, Including Flight & Hotel
Select
Gran Canaria | Labranda Riviera Marina
Prices from £319pp
Based on 7 Nights, All-Inclusive, Including Flight & Hotel
Select