Careers at Holiday Gems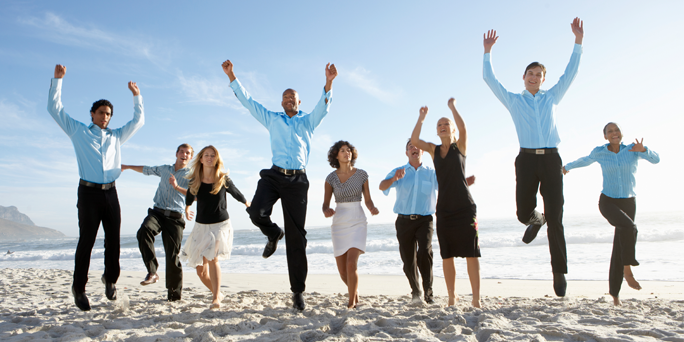 "We believe that keeping our team happy contributes to delivering quality service to our customers"
We are one of the UK's fastest growing online travel companies and are currently looking for self-motivated, hardworking talented Travel Advisors to join our team, based in our Stockport Office. Alternatively we also have positions based in our Ellesmere port office.
We also have vacancies based from home where we would welcome applications.
Our core values are to treat all as equal and ensure everyone shares in our success, this is based on the belief that keeping our team happy contributes to delivering quality service to our customers. This is evident in our review ratings on Review Centre and Feefo.
Available positions below:
Sales Advisor - Chester/Stockport (Full Time)
Have you ever dreamed of working in the exciting world of travel? But always been told you need travel experience.
Well, now is your perfect opportunity. Holidaygems.co.uk is seeking enthusiastic and highly-motivated sales consultants to join our talented team.
An ATOL bonded online travel agent, Holidaygems.co.uk has enjoyed significant growth. We are looking for dynamic professionals who are seeking to move into a fast-paced sales environment, where hard work is rewarded.
You will be responsible for helping to make holiday dreams come true, dealing with warm leads, inbound calls and online holiday orders.
You will use your previous sales experience and knowledge to maximize opportunities by building rapport; matching the right holiday to the customer's needs, overcoming objections and offering solutions to close the sale.
You will then accurately confirm the different elements of the customer's booking, and record details accurately into our back office systems.
This is a FULL-TIME position based in either our CHESTER OR STOCKPORT offices. You will be required to work a 37.5 -hour week, with varied shift patterns
We're really excited about our future, and are looking for positive applicants, preferably with previous call centre experience and a proven track record in achieving sales targets, to join our fantastic team. Travel experience is not necessary as FULL, IN-DEPTH training will be given.
In return for your hard work and commitment we will offer:
Competitive basic salary, with UNCAPPED bonus scheme - FANTASTIC EARNING OPPORTUNITIES
Discounted personal holidays
Educational visits to the destinations you will be selling
Friendly working atmosphere
All your booking leads provided
Sales Manager - Stockport (Full Time)
An ATOL bonded online travel agent, Holidaygems.co.uk has enjoyed significant growth. This is a great opportunity for an individual with a firm but fair attitude that is looking to work for an exciting, dynamic and growing business. This opportunity would suit individuals from a strong background as a travel manager / travel sales manager / retail travel manager OR individuals that have worked within a sales management role within a Call Centre / Contact Centre environment.
In this role, you will work alongside another Sales Manager, you will have experience of, and be responsible for leading, directing and motivating a team of 30+ agents to achieve optimum results. You will be accountable for driving the performance of the sales team, including coaching and development of the agents' individual performance to ensure they meet the required targets giving extra focus to under performers.
This is a full time position, based in our STOCKPORT Office. You will work 40hrs a week, on a 4 week rolling rota.
In return for your hard work and commitment we will offer:
Competitive basic salary, with bonus scheme
Discounted personal holidays
Educational visits to the destinations you will be selling
Friendly working atmosphere