Greece Water Park Holidays 2017/2018 – Hotels with Water Parks in Greece
Fancy some splashtastic family fun in sunny Greece? Take a look at some of our Greece water park holidays! We've hand picked a range hotels with water parks in Greece, ideal for those family breaks. Keep the kids entertained for hours with a host of water slides and rides right on site in your hotel.
These hotels take pools to the next level with the addition of their own on-site family friends water parks. The perfect way to cool down on those hot summer Greek days! So what are you waiting for? Call us now to book your Greece water park holiday for 2017 or 2018.
View Our 2017 & 2018 Water Park Holidays
Blue Bay Deluxe Complex Rhodes Waterpark
Rhodes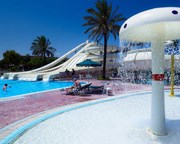 Blue Bay Deluxe Rhodes Resort is an amazing sea front hotel complex absolutely magnificent and fully renovated, offering all kinds of contemporary facilities earning it a place among the deluxe Greek properties.
From only:
£239pp
CALL NOW TO BOOK!
Labranda Blue Bay Resort
Rhodes
Blue Bay Rhodes Resort Complex is a sea front hotel complex absolutely great for family holidays, Offering all kinds of facilities for adults and children alike, earning it a place among the most popular holiday centers in Rhodes.
From only:
£279pp
CALL NOW TO BOOK!
Labranda Marine Aquapark Resort
Kos
Located near the serene beach of Tigaki, the Aquis Marine Resort and Waterpark is a distinctive complex featuring its very own water park. Families can take advantage of the numerous amenities on offer, with kids enjoying the waterslides while the rest of the family lounges in the sun by the pool. Couples and singles can also enjoy the close proximity to Kos and indulge in the local culture.
From only:
£296pp
CALL NOW TO BOOK!
Mitsis Summer Palace Hotel
Kos
This resort in Kardamena is nestled at the foothills of Mount Dikaios and features astonishing views over the Aegean Sea to Nisyros. Set on a hillside, it provides easy access to the beach that lies in front of the hotel. The town of Kos is 30 km away and Kardamena is in close distance. Facilities This is a luxurious beach hotel that combines exceptional leisure facilities and great entertainment activities.
From only:
£296pp
CALL NOW TO BOOK!
Aquis Sandy Beach Resort
Corfu
Surrounded by extensive gardens and located only s a short distance away from the lovely Govino Beach, Aquis Park Hotel is sure to provide you with a wonderfully relaxing experience. This clean and friendly hotel is situated 8 km form Corfu town and only 300 metres from Gouvia village.
From only:
£301pp
CALL NOW TO BOOK!
Gelina Village Waterpark
Corfu
The extensive All inclusive resort is especially popular for Families with children, as well as couples. To make your stay more comfortable a reception, shops, a lounge, a lobby and air conditioning are available. The staff in this hotel speaks German, French, Russian and English.
From only:
£362pp
CALL NOW TO BOOK!
Mediterraneo Hotel Crete
Crete
Hotel Mediterraneo is famous for its Greek hospitality, sumptuous Cretan cuisine, a friendly atmosphere and excellent choice of leisure facilities combine to create the perfect environment for a relaxing holiday. The Mediterraneo has recently added new facilities and rooms and is a modern hotel, located in the popular resort of Hersonissos.
From only:
£327pp
CALL NOW TO BOOK!
Star Beach Village & Waterpark
Crete
The Star Beach Village Hotel & Waterpark rests in the bustling resort of Hersonissos, on the island paradise of Crete. It is situated right next to the popular Star Beach Water Park. Star Beach Village is situated on the shores of Hersonissos which is just a few meters away from Star Beach Water Park.
From only:
£482pp
CALL NOW TO BOOK!
Anemos Luxury Grand Resort
Crete
Anemos Luxury Grand Resort is a Luxury Suites and Spa hotel situated in quiet area near to the village of Georgioupolis,. The hotel is located direct on the beach at the north western part of the island, right down to the famous mountain of Lefka Ori where all visitors can enjoy, overlooking the Cretan Sea.
From only:
£516pp
CALL NOW TO BOOK!
Lindos Imperial Executive Suites
Rhodes
Facilities and services include restaurant, bar, wireless Internet access and outdoor pool.Rooms feature air conditioning, TV, bathroom, wireless Internet access and hairdryer.**Please note that the all amenities can be used at the Lindos Imperial Resort & Spa which is located approximately 500m from the hotel.**
From only:
£751pp
CALL NOW TO BOOK!
Other Information
Prices "from" act as an indication only and are per person based on 2 sharing a room, subject to availability. Phone bookings for this offer include transfers and checked luggage. Lead in prices based on London flights, regional departures may carry a supplement. Where local country hotel taxes are charged, these are payable locally and not included in the price advertised. The image used is for illustration purposes only and does not reflect your actual holiday experience. All Inclusive drinks normally consist of locally produced alcoholic and non-alcoholic beverages. Please note some activities may incur a local charge. Luggage allowance may vary, please check at the time of booking. Added value offer are available on selected arrival dates; please check at the time of booking. The above package holidays are fulfilled by Holiday Gems Ltd, agent number S6886 and ATOL number 3973 (Global Travel Group Ltd), whose booking conditions apply. Hotel rating is that of the supplier and may not be the official rating. We reserve the right to withdraw offers at any time. Travel restrictions, conditions and credit/debit card surcharges apply. Please ask at the time of booking for full details. When it's gone, it's gone. Full balance is due 14 weeks prior to departure. Online bookings do not include transfers, luggage or tours – these must be requested at the time of booking.