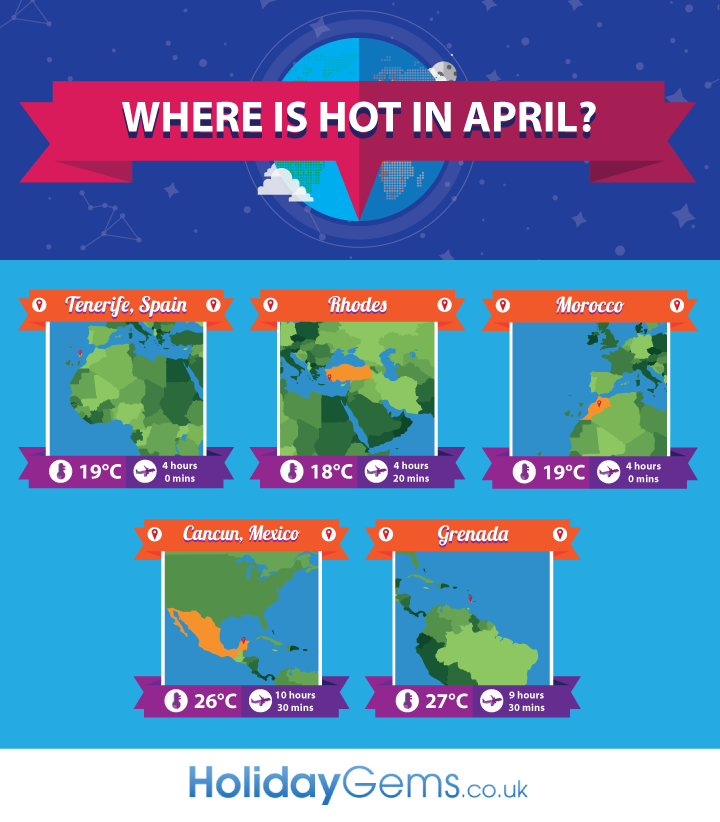 As Spring time arrives in the UK and school Easter Holidays take place, Easter tends to be a busy time of year for overseas getaways. And for the sunseeking Brits amongst you, what getaway is complete without great weather?
If you're thinking of departing the sunny shores of the UK for warmer weather elsewhere at this time of year, you'll need to know where is hot in April. Here are 5 destinations to whet your appetite for a sunny Easter!
Tenerife in April
Not too far off the coast of Morocco, the Canaries have more in common with North Africa than with Spain in terms of a climate.
The Island of Tenerife in the Canaries is one of the Brits' favourite holiday destinations all year round. And in April, the average temperature is around 19 degrees, though there'll regularly be days where it exceeds 20. And with a flight time from the UK of only 4 hours, you don't have to go far for beach weather in April.
Rhodes in April
The Greek Island of Rhodes has some incredible beaches with crystal clear waters. And if you visit in April, you're likely to get the weather to go with them. The average temperature is around 18 degrees Celsius, though it regularly exceeds 21 degrees. And with a flight
The flight time to Rhodes from the UK is around 4 hours and 20 minutes, so you can leave home in the morning and arrive in time to catch some rays before dinner.
Morocco in April
Morocco's North African location means the weather's relatively warm and dry all year round. In April, you can expect average temperatures of 19 degrees, with the mercury regularly rising to 24. And it will only take you around 4 hours to fly there from the UK.
Cancun, Mexico in April
On the Caribbean coast of Mexico, Cancun has something for everyone. Beautiful beaches, plenty of options for those looking to party and loads of sights to see. April is amongst the driest months in Cancun and with temperatures averaging 26 degrees, the weather is perfect for enjoying the pool or beach.
It takes around 10.5 hours to fly there from the UK.
Grenada in April
As far as Paradise retreats go, the Caribbean island of Grenada is up there. Idyllic, crystal clear waters and white sand beaches (coupled with a few cocktails, of course) make this a truly desirable holiday destination. And it's hot in April too. The average temperature here in April is around 27 degrees. Don't be surprised if the mercury rises even closer to 30 degrees in Grenada at this time of year either.
With a flight time of 9.5 hours, you can get from the grey skies of home to this Caribbean paradise in less than half a day!
Hot Weather in April
4 hours on a flight and you can enjoy the warm weather of the Canary Islands in April. Alternatively, if your style is scorching beach weather and you don't mind a long flight, the Caribbean islands or Caribbean coast of Mexico are hot in April and are a firm favourite with holidaymakers.
Swap your Easter eggs for some factor 50!