It's Cyber Monday! Check out our amazing Summer 2017 deals!!
Destinations include: Majorca, Algarve, Salou and Corfu
Or try something different with a holiday to
Morocco
Offer 1

- Salou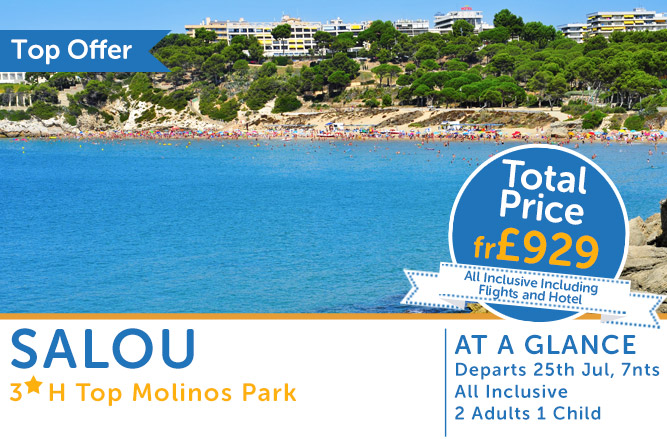 For the ultimate beach break why not head to Salou with its fantastic beach and beautiful turquoise seas. Located in the aptly named Gold Coast; Costa Dorada, you will find Salou holidays are perfect for all the family. A vibrant nightlife and a family theme blend together beautifully, to create a superb and well loved Spanish destination. A mix of relaxing activities and energetic sports with lively entertainment can all be found in this stunning resort of fine white sand sloping in to the gorgeous Mediterranean seas.
Offer 2

- Majorca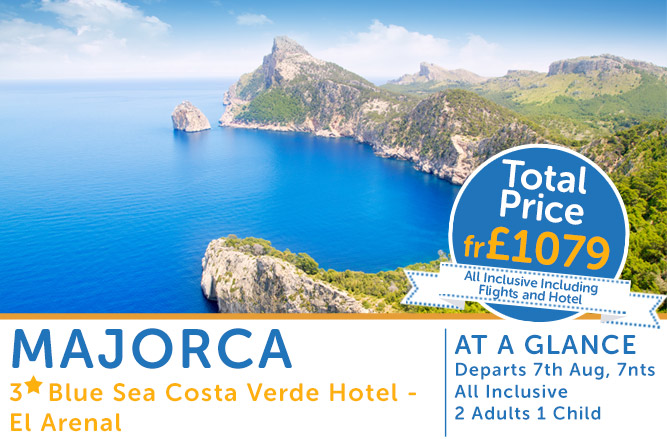 Majorca is synonymous with fantastic beaches, beautifully warm summers and the benefit of a short flight. So it comes as little surprise that Majorca holidays remain a firm favourite with British sunseekers looking for a spot of paradise just a short journey away. Book your break in the Balearic paradise for 2016 or 2017 today.
Offer 3

- Corfu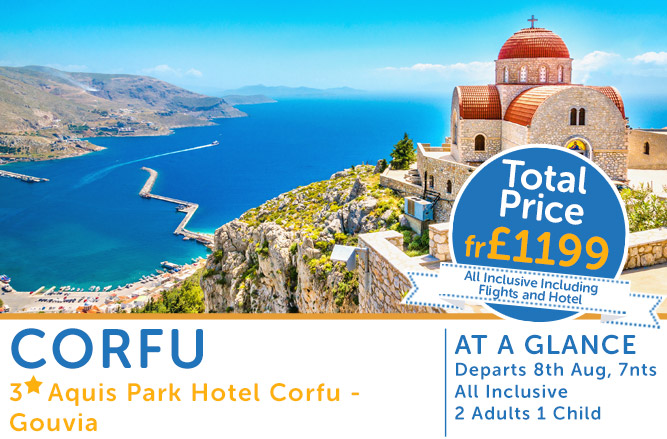 Over one million visitors a year enjoy holidays to Corfu and it is easy to see why. The island of Corfu is one of the Ionian Islands located in the Mediterranean Sea just a few miles off the north west coast of mainland Greece. Boasting over three thousands hours of sunshine a year Corfu is one of the hottest islands in the Mediterranean and its wonderful beaches are one of the reasons Corfu holidays prove so popular. Away from the white sand beaches other attractions of Corfu include its rich history, its verdant internal landscape offering picturesque views and acres of orchards of citrus trees and olive grove trees and the islands traditional fishing villages and local people who are as warm as the weather. As such a popular holiday destination it comes as no surprise that a wide spectrum of holiday types and holidaymakers are catered for on Corfu.
Offer 4

- Algarve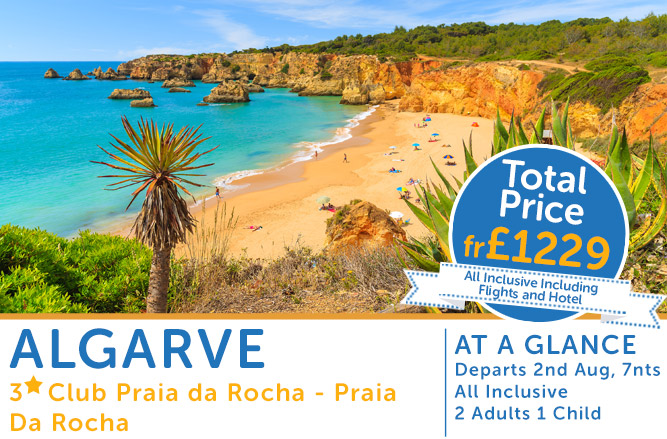 Situated on the southwest tip of Portugal the Algarve attracts near ly seven million visitors each year. The year round warm weather, fantastic beaches, great seafood, friendly local people and wonderful facilities mean Algarve holidays grow in popularity each year. The most popular months for visitors to enjoy Algarve holidays are between June and September when the summer sun means temperatures are usually between 26 and 28 degrees Celsius. Although Algarve holidays do attract visitors all year round as its proximity to Africa means that even in winter the climate stays mild with temperature rarely dipping below 16 degrees Celsius.


One of the most cultural countries bordering Europe with a combination of fantastic beaches and rich history, Morocco remains a much loved tourist hotspot. Fabulous sunshine, age old city life and endless white sand beaches all blend to create a unique holiday atmosphere but with a flair. The ability to experience the heart of Moroccan customs and traditions lies wherever you visit in this North African oasis and backed by the Sahara desert means temperatures are ideal for sun worshippers. Morocco holidays combine the perfect beach holiday with a world of discovery offering a real insight into beliefs, lifestyles, ancient designs and long established architecture so common within the fascinating country of Morocco. Dazzling sunsets cast reflections on tranquil seas, an abundance of citrus trees and olive groves line countryside and towns all adding to the holiday ambience.
Conditions apply. The images used are for illustration purposes only and does not reflect your actual holiday experience. Any price advertised is fulfilled by Destination2.co.uk acting as the agent on the Tour Operators behalf. Holidays are bonded under ATOL number 3973 (Global Travel Group Ltd) whose booking conditions apply, unless otherwise stated. All offers are subject to availability & include all taxes. Full payment for flights may be required at time of booking. Please note exclusion dates apply as per the offer detail. Prices for other party sizes, dates, durations and departure airports are also available on request. Where local country hotel taxes are charged, these are payable locally and not included in the price advertised. Hotel rating is that of the supplier and may not be the official rating. Offers are available by calling our (UK) Reservations Line only and your normal phone tariff will apply. Our UK Reservations personnel will call you back on request. Prices excludes credit card fees & transfers. We reserve the right to withdraw this offer at any time. Travel restrictions and conditions apply. Please ask at the time of booking for full details. When it's gone, it's gone. Full balance is normally due 14 weeks prior to departure unless booking under our special offer. No card fees apply when paying by Solo, Switch, Delta & Electron debit cards. Destination 2 reserves the right to substitute any of the hotels advertised should availability be limited. You will be advised of this at the time of booking if applicable. *Limited Availability