The best European Christmas markets by capital city
Whether you're on the hunt for a cheap holiday before it reaches the 25th, or you're looking to escape the UK over Crimbo to avoid every ounce of political updates, there are so many amazing Christmas markets in Europe to help you get into the holiday spirit - you'll be spoilt for choice!
If you're thinking of going abroad for a winter getaway, check out traditional options like Berlin and enjoy eating an authentic sizzling bratwurst in the country itself, or sip on a mulled beverage in the magical eastern European setting of Prague. Some of the most popular destinations may surprise you, with unassuming festive locations like the enchanting Croatian capital of Zagreb ranking within the top 10.
So, to help your decision-making process a little easier, we've summarised the best European Christmas markets in the capital city, based on how many times they've been tagged on Instagram, search volume and upcoming Christmas markets for 2020 based on search trend.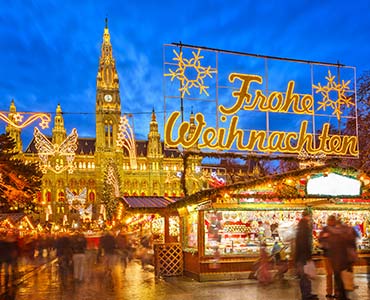 Most Instagrammed European Christmas Markets
| Capital Cities in Europe | Hashtags |
| --- | --- |
| Vienna Christmas Markets | 8,825 |
| Budapest Christmas Markets | 6,428 |
| Prague Christmas Markets | 4,323 |
| Berlin Christmas Markets | 4,023 |
| Bucharest Christmas Markets | 3,665 |
| Tallinn Christmas Markets | 2,815 |
| Brussels Christmas Markets | 1,830 |
| Helsinki Christmas Markets | 1,517 |
| Paris Christmas Markets | 827 |
| Zagreb Christmas Markets | 563 |
| Luxembourg Christmas Markets | 363 |
| Dublin Christmas Markets | 324 |
| Bratislava Christmas Markets | 263 |
| Copenhagen Christmas Markets | 223 |
| Amsterdam Christmas Markets | 143 |
| Warsaw Christmas Markets | 42 |
| Sofia Christmas Markets | 37 |
| Ljubljana Christmas Markets | 33 |
| Stockholm Christmas Markets | 28 |
| Vilnius Christmas Markets | 28 |
| Rome Christmas Markets | 18 |
| Moscow Christmas Markets | 18 |
| Madrid Christmas Markets | 17 |
| Oslo Christmas Markets | 9 |
| Vilnius Christmas Markets | 28 |
| Rome Christmas Markets | 18 |
| Moscow Christmas Markets | 18 |
| Madrid Christmas Markets | 17 |
| Oslo Christmas Markets | 9 |
| Riga Christmas Markets | 6 |
| Belgrade Christmas Markets | 3 |
| Bern Christmas Markets | 1 |
| Athens Christmas Markets | 1 |
| Reykjavik Christmas Markets | 0 |
| Kiev Christmas Markets | 0 |
| Chisinau Christmas Markets | 0 |
| Nicosia Christmas Markets | 0 |
| San marino Christmas Markets | 0 |
| Skopje Christmas Markets | 0 |
| Vaduz Christmas Markets | 0 |
| Valletta Christmas Markets | 0 |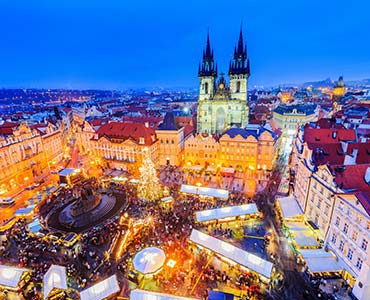 Most popular European Capital Christmas Markets
| Capitals | Average searches on Google per month |
| --- | --- |
| Prague Christmas Markets | 12,100 |
| Berlin Christmas Markets | 9,900 |
| Vienna Christmas Markets | 9,900 |
| Amsterdam Christmas Markets | 8,100 |
| Budapest Christmas Markets | 8,100 |
| Brussels Christmas Markets | 6,600 |
| Paris Christmas Markets | 3,600 |
| Copenhagen Christmas Markets | 3,600 |
| Dublin Christmas Markets | 2,400 |
| Tallinn Christmas Markets | 1,900 |
| Oslo Christmas Markets | 1,300 |
| Riga Christmas Markets | 1,300 |
| Stockholm Christmas Markets | 1,000 |
| Warsaw Christmas Markets | 1,000 |
| Bratislava Christmas Markets | 880 |
| Rome Christmas Markets | 880 |
| Zagreb Christmas Markets | 880 |
| Luxembourg Christmas Markets | 720 |
| Vilnius Christmas Markets | 590 |
| Helsinki Christmas Markets | 480 |
| Reykjavik Christmas Markets | 480 |
| Madrid Christmas Markets | 390 |
| Bucharest Christmas Markets | 320 |
| Ljubljana Christmas Markets | 320 |
| Sofia Christmas Markets | 210 |
| Bern Christmas Markets | 140 |
| Kiev Christmas Markets | 140 |
| Moscow Christmas Markets | 140 |
| Athens Christmas Markets | 40 |
| Belgrade Christmas Markets | 40 |
| Chisinau Christmas Markets | 10 |
| Nicosia Christmas Markets | 10 |
| San MarinoChristmas Markets | 10 |
| Skopje Christmas Markets | 10 |
| Vaduz Christmas Markets | 10 |
| Valletta Christmas Markets | 10 |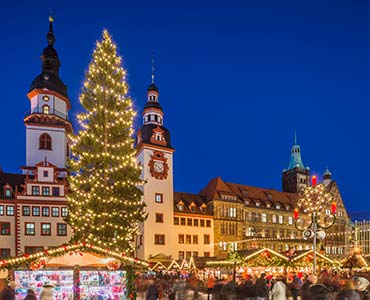 Best upcoming Christmas markets for 2020 - ones to look out for based on search trends
| Capitals | Search trends (% increase) |
| --- | --- |
| Skopje Christmas Market | 200 |
| Moscow Christmas Markets | 129 |
| Tallinn Christmas Markets | 125 |
| Sofia Christmas Markets | 125 |
| Bucharest Christmas Markets | 108 |
| Belgrade Christmas Markets | 100 |
| Chisinau Christmas Markets | 100 |
| Kiev Christmas Markets | 86 |
| Vilnius Christmas Markets | 82 |
| Amsterdam Christmas Market | 50 |
| Riga Christmas Markets | 50 |
| Bratislava Christmas Markets | 50 |
| Prague Christmas Markets | 49 |
| Copenhagen Christmas Markets | 49 |
| Athens Christmas Market | 29 |
| Budapest Christmas Markets | 23 |
| Vienna Christmas Markets | 22 |
| Brussels Christmas Markets | 22 |
| Oslo Christmas Markets | 22 |
| Rome Christmas Markets | 21 |
| Berlin Christmas Markets | 0 |
| Dublin Christmas Markets | 0 |
| Warsaw Christmas Markets | 0 |
| Helsinki Christmas Markets | 0 |
| Nicosia Christmas Market | 0 |
| San marino Christmas Market | 0 |
| Vaduz Christmas Market | 0 |