Welcome to 2018! With the brand-new year, we're launching a new campaign that revolves all around YOU.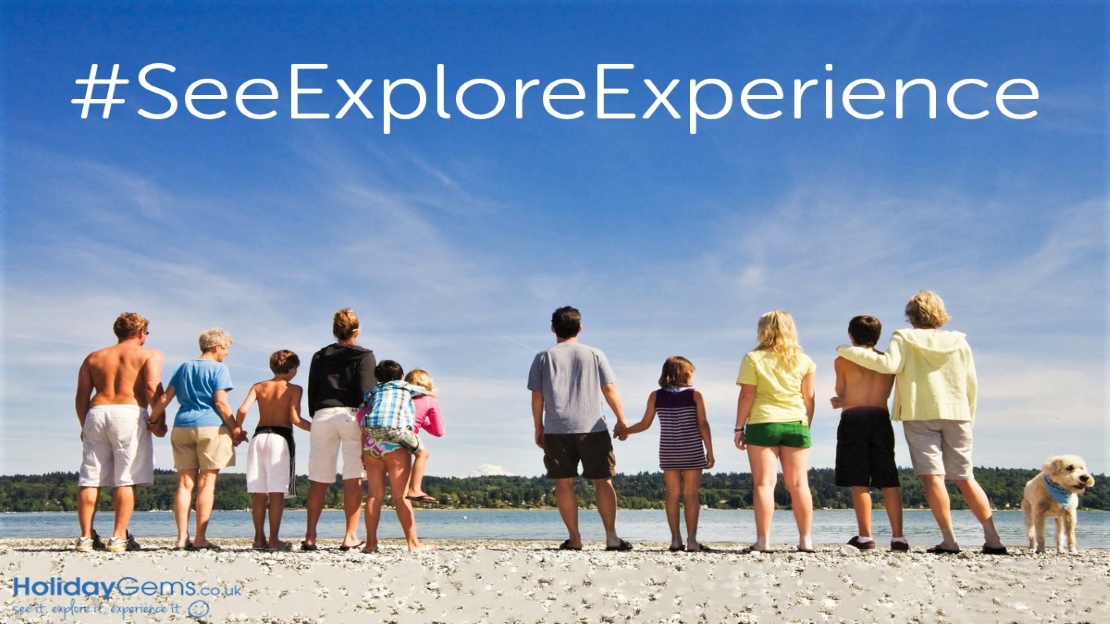 Here at HolidayGems.co.uk, we pride ourselves on providing your perfect holiday at the very best prices, whether it's a family holiday at the beach or a romantic city break for two. And we love providing these great deals so much that we want to see how much fun you've had during your holiday!
What we're asking is simple: share your holiday snaps with us on Twitter or Instagram, tagging in @holidaygems and using the hashtag #SeeExploreExperience. Alternately, post your image on our Facebook wall using the hashtag #SeeExploreExperience. We'll be sharing the best ones across our social media channels so keep a lookout on our channels because you might be starring on there very soon.
"What's in it for you?" Well, we're giving all entrants the chance to win an all-inclusive holiday to Spain for two people! So, if you've just returned from your travels, or have some standout holiday snaps from your last summer or winter holiday, share them with us and you could be jetting off again in no time.
We look forward to seeing you soon…
Team Gems
Terms & Conditions
1. One winner will receive a 7-night trip for two adults to Spain. The prize consists of return flights, resort transfers and four-star hotel accommodation on an all-inclusive basis. The return airline tickets will depart from London, Birmingham or Manchester to Spain with a departure date chosen by the winner within the dates specified.
2. The entry dates of this competition are between 1st January 2018 & 30th April 2018 and the winner will be chosen at random on 8th May 2018.
3. Travel will be available between 1st – 15th June 2018 (departures over school holiday periods or bank holidays are not valid). Chosen dates will be subject to availability and HolidayGems.co.uk will provide three alternative dates from your chosen airport (as listed above). Should the three dates provided not be acceptable to the winner, there will be no further obligation on HolidayGems.co.uk part to provide another suitable alternative Holiday.
4. The prize draw is open to all UK residents aged 18 or over, excluding employees of HolidayGems.co.uk, their immediate families, agents or any third party directly associated with administration of the prize draw.
5. In order to enter the competition, post your travel photos to Twitter, Instagram (tagging @holidaygems and using the hashtag #SeeExploreExperience) or on our Facebook page (using the hashtag #SeeExploreExperience).
6. By submitting your photo, you agree a perpetual, non-exclusive, royalty-free license to use your name, image, likeness and your entry for promoting / marketing on the HolidayGems.co.uk social media accounts and website. Users who submit a photo or video which includes any individuals other than themselves warrant and represent that such individuals have given their consent to the photo or video being provided to HolidayGems.co.uk for the above purpose. HolidayGems.co.uk will request users' permission before using their photo or video in any marketing or promotional material, aside from social media posts or website pages / blogs.
7. The prize is not redeemable for cash, non-transferrable or non-endorsable. Requests for alternative regional airport departures, airline hold luggage, increased holiday durations and additional passengers may be purchased at additional cost.
8. The winner will become the Lead traveller of the booking and must be aged 18 or above. In addition, the winner and the winner's travel companion must travel together and all components of the prize must be taken together.
9. The prize does not include domestic UK transfers, travel insurance, airline hold luggage (purchasable at additional cost) spending monies or incidental costs (such as additional meals, telephone calls, mini bar items, laundry etc) other than those stated. The prize winner accepts that they will be responsible for obtaining travel insurance which is a compulsory condition of winning the Holiday.
10. The prize does not include Spanish Tourist Tax which must be paid locally by the prize winner.
11. The winner is responsible for their own and his/her travel companions having valid passports/visas. We cannot be held responsible for any visa granted incorrectly or refused admission to Spain. We strongly recommend that you check detail in your Entry Permits/Visas against your passport and personal information prior to departure.
12. The winner will be notified by email by HolidayGems.co.uk and given details of how to claim his/her prize. If a winner does not respond to HolidayGems.co.uk within 14 days of being notified by HolidayGems.co.uk then the winner's prize will be forfeited. The winner, whose prize has been forfeited, is not entitled to payment or compensation of any kind.
13. The prize is non-exchangeable, non-transferable, and is not redeemable for cash or other prizes. HolidayGems.co.uk retain the right to substitute the prize with another prize of similar value in the event the original prize offered is not available. No purchase is necessary to win.
14. HolidayGems.co.uk accept no responsibility for any damage, loss, liabilities, injury or disappointment incurred or suffered by you as a result of accepting the prize. HolidayGems.co.uk further disclaim liability for any injury or damage to your or any other person's computer relating to or resulting from participation in or downloading any materials in connection with the Prize draw. It is a condition of accepting the prize that the winner (and his/her travel companions) may be required to sign a legal release in a form determined by HolidayGems.co.uk in its/their absolute discretion.
15. HolidayGems.co.uk reserves the right at any time and from time to time to modify or discontinue, temporarily or permanently, this Prize Draw with or without prior notice due to reasons outside its control (including, without limitation, in the case of anticipated, suspected or actual fraud). The decision of HolidayGems.co.uk in all matters under its control is final and binding and no correspondence will be entered into.
16. HolidayGems.co.uk shall not be liable for any failure to comply with its obligations where the failure is caused by something outside its reasonable control. Such circumstances shall include, but not be limited to, weather conditions, fire, flood, hurricane, strike, industrial dispute, war, hostilities, political unrest, riots, civil commotion, inevitable accidents, supervening legislation or any other circumstances amounting to force majeure.
17. HolidayGems.co.uk is a trading name of Holiday Gems Ltd (Company Registration Number. 5824929) and a fully-bonded trading member(S6886) of The Global Travel Group Ltd (Company Registration Number. 2774722)((TGTG)) Holiday Gems Ltd, 1st Floor, Dale House, Tiviot Dale, Stockport, Cheshire, SK1 1TB