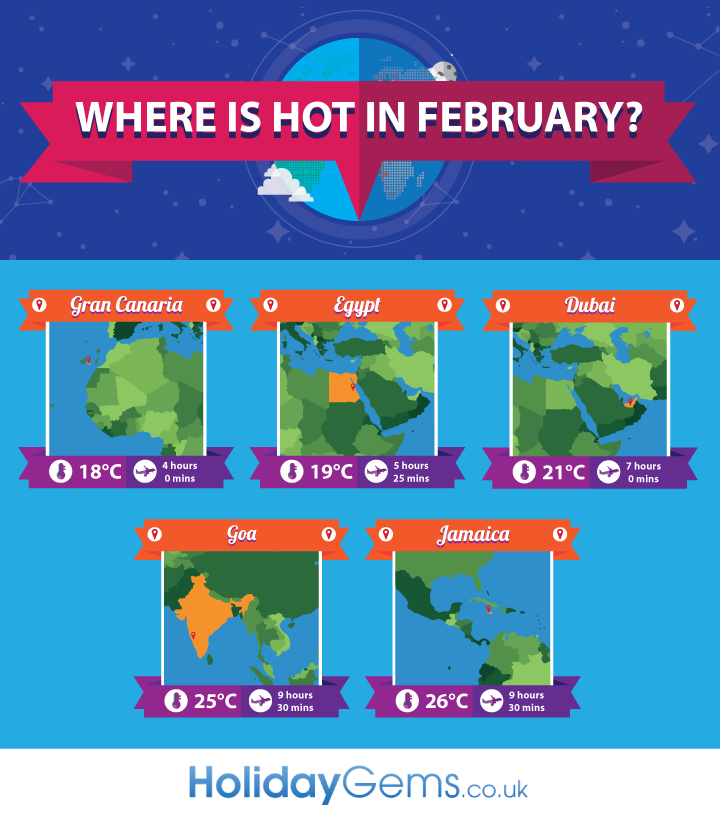 By the time February comes around, most of us in the UK are wishing the winter away and pleading for a tiny glimpse of Spring. In London, average temperatures in February are 7 degrees Celsius. In Edinburgh, this falls to 4. But it's not completely out of the question for parts of Britain to freeze.
So it's little wonder that many of us choose to ditch the winter woolies and head abroad for a cheeky winter sunshine escape. There's also school half term holiday in February for those looking to get the family to some sunnier climes for a week or so.
For those of you looking for inspiration for a February getaway and hoping for some summer weather while you're there, you'll want to know where is hot in February. Here are 5 destinations that might be just what you need.
Gran Canaria in February
The Canary Islands lie just off the coast of Africa, which gives them a far more favourable climate for winter sun seekers than, say, Spain.
Gran Canaria is a family favourite and a great choice for those looking for a bit of sunshine and some reasonable temperatures without flying too far from home.
Temperatures average around 18 degrees Celsius and you can fly to Gran Canaria in around 4 hours from the UK.
Check out Gran Canaria holidays.
Egypt in February
If you're prepared to fly a little further in February, you can get it even warmer. Egypt is a wonderful winter sun destination because it's incredibly dry and sunny. In February, you can expect temperatures of around 19 degrees Celsius as an average, though it's not uncommon for 22 or even higher.
The flight time from the UK to Egypt is around 5 hours and 15 minutes, so it's not that far to fly for summery escape while Britain shivers in the February cold!
Dubai in February
For those who'd like to couple a winter beach break with a bit of city sightseeing, Dubai could be just up your street. February in Dubai means average temperatures of around 21 degrees.
Think luxury hotels, a bustling atmosphere and more sights than you could possibly see in a single week and you've got Dubai.
The flight time from the UK is approximately 7 hours.
Goa in February
The Indian Ocean boasts some stunning holiday destinations. And amongst them is Goa. Think turquoise waters and white sand beaches – Goa's coastline can rival the most beautiful beaches in the world.
At around a 9.5 hour flight, it's a little further afield than other destinations, but that still means that in less than half a day, you can fly away from the f-f-f-freezing February back home and into a summer paradise.
It's hot in February here, with temperatures averaging around 25 degrees, but it's not uncommon for it to hit 30 or higher!
Jamaica in February
A perfect destination for those looking for somewhere it is hot in February is Jamaica. This Caribbean paradise sees average temperatures of about 26 degrees in February and it's not unusual for the mercury to soar to close to 30.
Rum cocktails, white sand beaches and relaxation is the order of the day in Jamaica. What better way to spend a week in winter?
Flying to Jamaica from the UK takes approximately 9.5 hours.
Hot Weather Holidays in February
So you don't have to go too far afield to enjoy a little spot of summer in February. From just 4 hours on a plane, you can leave the rest of the UK behind shivering while you enjoy the beaches and the sunshine of some of the loveliest winter sunshine escapes around.