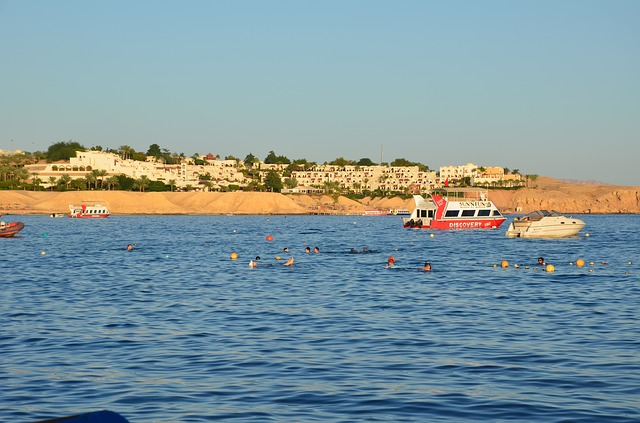 Sharm-el-Sheikh is a former port town on the Sinai Peninsula on The Red Sea which has become a tourist hot-spot in Egypt due to its dramatic landscape, temperate climate and long stretches of natural beaches. Here, we're going to give you the where to guide when looking for things to do in Sharm el Sheikh.
Nature Lovers
Attractions in Sharm el Sheikh are varied and numerous, but one of the best features of Sharm is its wildlife, especially its marine attractions. Boasting over 200 coral reefs in the proximity and crystal clear waters Sharm el Sheikh is noted for its exceptional scuba diving and snorkelling excursions, from Naama Bay out to Tiran Island, where you can snorkel or dive with marine life, see coral reefs, or even one of the shipwrecks in the area, or from the Ras Mohamed National Park, to the south which again has excellent diving and snorkelling opportunities with reefs, marine life and an awesome wreck.
Shopping, Eating, Clubbing
Although, of course there are many places to eat, drink and dance, one of the major attractions in Sharm el Sheikh is Naama Bay, a natural bay populated with a wide variety of bars, cafes, restaurants, bazaars and clubs. So if you want to check out the local bazaars, eat, drink and dance the night away, that is your one-stop-shop, catering for a wide variety of cuisines, types of dining experience and price ranges, with the usual Hard Rock Cafe and TGIs if you want somewhere familiar. The same goes for the bar and clubbing experience with a range of types – simple waterfront bars or, slightly to the south end of the bay and off the front, world-famous house club Pacha. For a slightly different experience, you could travel north from Naama Bay up to Sharm's SOHO Square, a complete entertainment centre with shopping, bars and restaurants that are a little more low-key than the bay which is good if with young children as it also has a bowling alley, ice skating and an arcade, as well as a great musical water fountain which comes alive at night.
Culture Vultures
Being on the Sinai peninsula, and being a few hours drive to Mt Sinai itself, you'll not be surprised to find out that Sharm el Sheikh is gifted with a number of exquisitely beautiful places of worship. There's the imposing Al Mustafa mosque which is strikingly lit at nighttime, as well as the gracefully rendered Heavenly Cathedral, scattered with magnificent murals and frescoes of Biblical events, or the beautiful Coptic Church, another Christian church that has an interior to rival any seen before – a truly alluring place. And, of course, if you'd like to learn more of the significance of such places and of their history, the tour guides are passionate experts on their respective sites. And, for the more adventurous, you can book a day trip out to Mt Sinei itself, about a 3 hour drive away, the place where the prophet Moses received the Ten Commandments.
Thrill Seekers
One of the other things Sharm el Sheik is renowned for is its watersports. Kitesurfing is the biggest in the area and if you've never surfed along the surface of the ocean propelled by a large kite before, then I'd recommend it.Head down to the beach to try it or a host of other activities. For a more family-orientated activity, there's also the Aqua Blue Waterpark, a high-end waterpark that will caters fun for thrill seekers of all ages. Theres also numerous adventure safaris on offer in Sharm, normally including the likes of horse riding, quad biking a camel ride, or all three, and you don't have to look had to find such a day trip.