Whether its flying through the air at ungodly speeds, vertical drops or being thrown around at stomach-turning G-forces, teenagers and adrenaline junkies have always been attracted to thrills and things that make you scream, and being away from home is a good excuse to see what theme parks with a Spanish flavour have to offer. Here, we run-down some of the best theme parks in mainland Spain.
Parque Warner, Madrid, Madrid
Parque Warner opened in 2002 and is a large Warner Brothers themed park located 25km southeast of Madrid and can count itself as one of the best theme parks in Spain. It boasts an impressive array of high-octane rides with 6 roller coasters and 42 other rides and attractions including, drop tower rides and the longest and tallest wooden roller coaster in Europe. If you like roller coasters then Stunt Fall is an scream-inducing delight, with multiple inversions at high speed. The park also has many rides, shows and walk-through attractions for teenagers and children, all based around themes and characters from the Warner Brothers films, comics and cartoons.
Tibidabo, Barcelona, Catalonia
If the only indicator was charm, Tibidabo could easily count itself one of the best theme parks in Spain. Built in 1889 and located on the Tibidabo mountain, and offering stunning views of Barcelona below, Tibidabo is a quaint and whimsical little park. In terms of rides it does have a rollercoaster, an iconic big wheel and many low-key attractions. Don't expect white-knuckle rides but Tibidado does have bags of quiet charisma.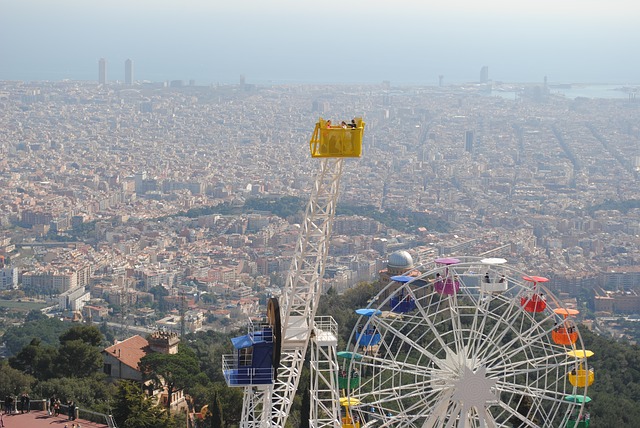 Terra Mitica, Benidorm, Alicante
A smaller park in Benidorm with a total of 25 rides, Terra Mitica does a good job of doing what it can do well and customer satisfaction overall reflects this. The park is split into 5 themed zones; Egypt, Greece, Iberia, The Islands and Rome. Each zone offering themed rides shops and shows. Rides and attractions are, as you'd expect, aimed at different age levels or degrees of daring, with fast roller coasters and a drop-tower ride, indoor paintball, a haunted maze and water rapids and a big boat drop. Although lacking the bombast of the likes of PortAventura, Terra Mitica can count itself as one of the more endearing theme parks in Spain, and with it's close proximity to Benidorm would be a great day out if holidaying in the area.
PortaAventura, Salou, Catalonia
PortAventura is easily the biggest theme park in Spain. Located to the south of Barcelona and attracting 4 million visitors a year, it is also Spain's most visited. The park is split into five separate areas, representing different historical civilisations; Mediterrània, Far West, México, China and Polynesia. Each with their own themed rides and attractions. The park offers an extensive and dynamic selection of different rides and attractions from world class roller coasters – the Shambahala rollercoaster posing a 78 meter drop -, water rides and drop-tower rides. Each section also has its own selection of shows, shops and restaurants for those of the more delicate of nature and the site also possesses its very own water park, the Costa Caribe, with a Caribbean theme, which in itself can lay claim to being one of the premier water parks on the Spanish mainland. With excellent local transport and within reasonable proximity to two airports and Spain's second-largest city, you'd be hard-pressed not to declare PortAventura the best theme park in Spain