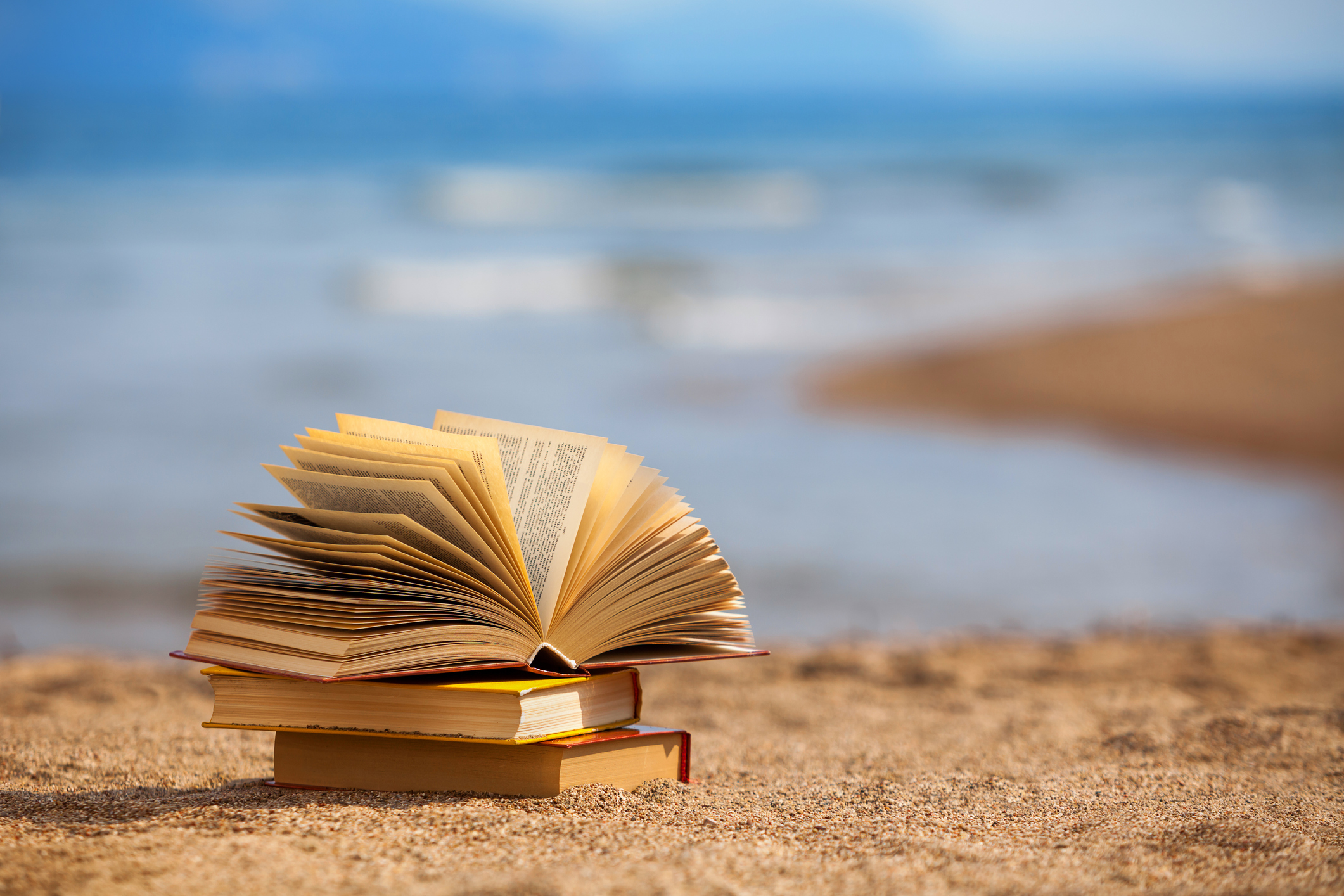 Whether you're planning to spend two weeks on a beach reading a novel cover to cover, or you're looking for something that you can grab for five minutes at a time during your family holiday, a good book is an essential holiday item.
With such a wide range of books on offer, many of which claim to be the perfect holiday novel, it can be difficult to know which one to go for, especially if you don't want to trawl through online reviews (who has time for that?). But don't worry - we've put together this handy bunch of tips for picking the perfect holiday book, so you'll have more time to plan your getaway.
What type of book should I take with me?
Obviously, the type of book you should take with you on holiday really depends on the sort of thing you like to read, but the type of holiday you've chosen and your destination can also guide you. Here are some pointers for books to match your holiday choices:
Relaxing beach holiday: Take a book with you that you can really get lost in. Unless you're holidaying with young kids, you're going to have a lot of time to turn page after page, so try and find something that will transport your mind. Alternatively, if your luggage allowance permits, why not take more than one book?
Holiday Gems recommends: The Time Traveller's Wife by Audrey Niffenegger, From Rockaway by Jill Eisenstadt and The Museum of Extraordinary Things by Alice Hoffman.
Activity-packed family holiday: It can be tricky to fit in a lot of reading over a family holiday, especially if you've got lots of excursions planned, but you'll be glad of something to read on the plane, on your transfer to the hotel and when you get a few minutes to yourself! That's why we recommend taking a book that's an "easy" read, with short chapters so you can grab it for ten minutes and easily pick up from where you left off.
Holiday Gems recommends: Bridget Jones' Baby by Helen Fielding, A Curious Career by Lynn Barber and No Thanks! I'm Quite Happy Standing! By Virginia Ironside.
Couples holiday / honeymoon: chances are, you're not going to be reading too much on this type of holiday - you'll be too busy enjoying the undiluted company of your other half! However, when you do get a chance to pick up a book, why not make it something life changing?
Holiday Gems recommends: The Course of Love by Alain de Botton, Everyone Brave is Forgiven by Chris Cleave and Five Rivers met on a Wooded Plain by Barney Norris.
eBook or actual book?
E-readers like Amazon's Kindle are now a staple item for travel, they can be found in the suitcases and hand luggage of holidaymakers looking to indulge in a good book or five during their break. But which one should you take with you? The choice is yours, but here are some pros and cons to make your decision a little bit easier.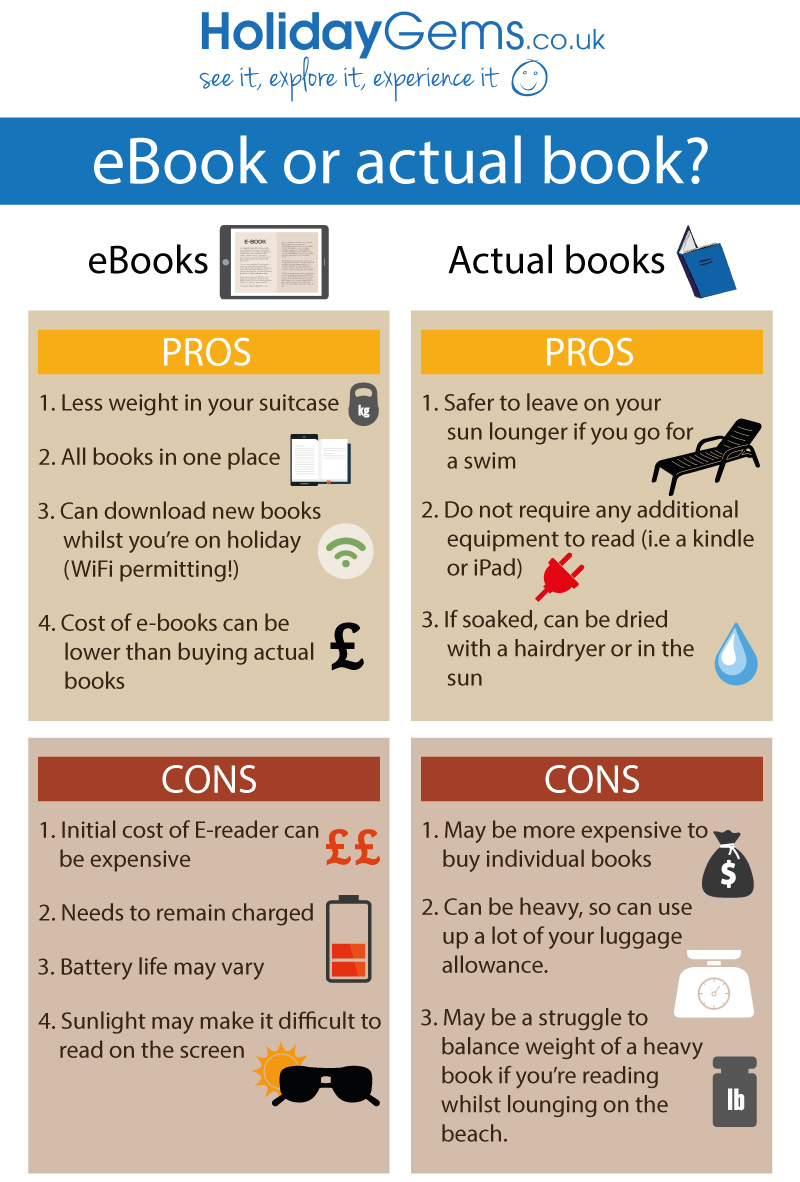 When it comes down to it, eBook and actual books both have a selection of pros and cons. If you're going on a relaxing beach holiday and expect to read more than one book, or you'd like a choice of reads once you arrive, we recommend taking an eBook reader. If you've booked a last-minute cheap holiday deal and want a quick read to throw in your suitcase and leave behind afterwards, or if you're going for a family holiday and you'll only have time for one novel, an actual book is the way to go - plus you can avoid the horror of one of the kids dropping your Kindle in the pool!
Top tips for holiday bookworms
If you don't fancy forking out for a range of books to take away with you, check if your hotel has a lending library.
Not always in the mood for a book? Books can be a bit of a chore for people who aren't big readers, so don't forget to take a selection of magazines too.
Try to avoid buying your books at the airport if possible. Many airport stores hike up their prices, so plan in advance and get your reads prior to the departure lounge.
Need some more book inspiration? Head over to the websites of The Guardian, Waterstone's or Amazon, where you'll find lots of book recommendations.