Magical Morocco is a dream come true for anyone craving an unforgettable holiday experience, surrounded by golden beaches, stunning vistas, crystal-clear waters and awe-inspiring historical attractions.
Boasting an endless array of leisure activities, amazing hospitality, delicious cuisine and glorious sunshine, there's something for every type of holidaymaker in this enchanting destination.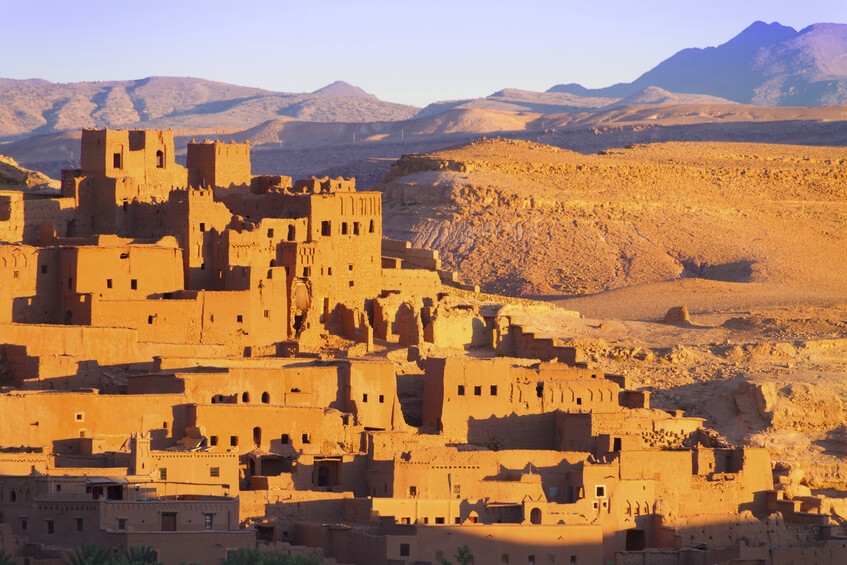 We've decided to turn the spotlight on this sensational escape to reveal why it's a great choice for the holiday of a lifetime.
How long does it take to fly to Morocco?
The flight time to Morocco from the UK takes 3 to 4 hours, depending on which resort you are visiting.
You need to ensure your passport is valid for three months from your arrival date, and also that is not damaged in any way. There is no time difference between Morocco and the UK.
What language is spoken in Morocco
The country recognizes both Arabic and Amazigh as its official languages. The Moroccan Arabic dialect is known as Darija and is the most widely used native language. It is a lingua franca made up mostly of Arabic and Amazigh, with some Spanish words.
French, the most common secondary language in the country, is used in nearly every aspect of Moroccan society, including schools and government.
Amazigh is used in most parts of Morocco and those who speak it do not necessarily use it in writing. Spanish and English are spoken in the country, but not as much as the other languages.
When is the best time to visit Morocco?
Situated in the Northwest corner of Africa, Morocco boasts a wonderful sunny Mediterranean climate. Temperatures can be stifling in the height of summer, so early spring or autumn are great times to visit, when the days are warm but not unbearably hot.
The early Spring period is between March and April. Temperatures reach average highs of 19°C and lows of 17°C.
The winter period is between September and November. Temperatures reach average highs of 25°C and lows of 18°C.
The hottest month in Morocco is August where temperatures can reach highs of 29°C.
What are the most popular holiday resorts in Morocco?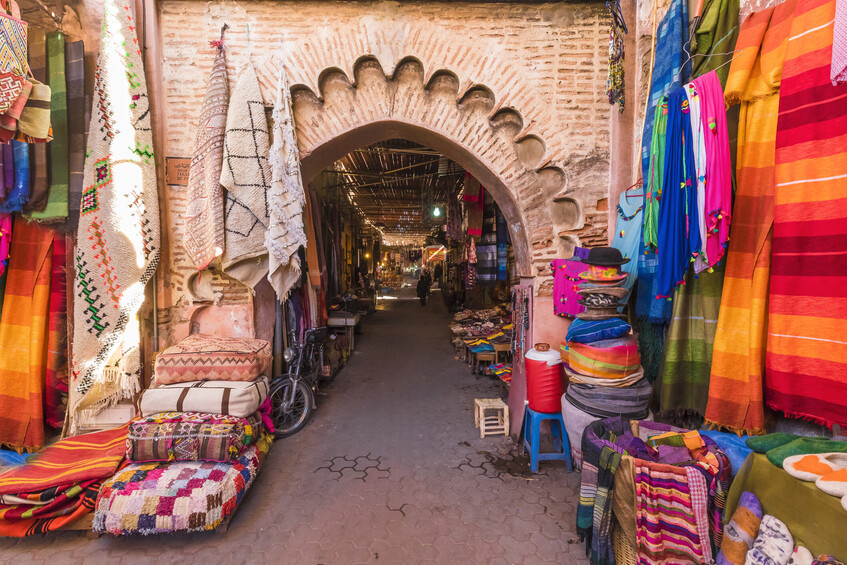 Morocco is home to some of the most beautiful resorts on the planet. No matter what type of holiday you're looking for, you can rest assured Morocco has the perfect resort for you.
Marrakesh is one of the most popular resorts in the country. This incredible city is filled with a myriad of historical attractions, bustling markets and vibrant nightlife. The dunes and deserts surrounding the city are filled with natural wonders and stunning vistas.
If you're seeking a more serene and relaxing holiday, then the city of Agadir hits the bullseye. This is a beautiful seafront town that's filled to the brim with leisure activities and sights to see. The promenades boast charming cafes and shops, all adjacent to the sun-soaked beaches, and you'll find a wealth of historic attractions in the city centre.
For holidaymakers who want a lavish movie-star experience, the famous city of Casablanca is an ideal choice. This is a real magnet for celebrities, as well as being home to beautiful beaches, incredible attractions and plenty of stylish shops and restaurants.
Morocco's capital city Rabat is a perfect blend of history, culture and leisure. You'll discover golden beaches, which are perfect for water sports, to beautiful gardens and historical monuments. Whether you yearn for a lively holiday filled with water sports and exploration, or just want to kick back and relax in the sun, Rabat has something for everyone.
What are the top attractions in Morocco?
The cities in Morocco offer a fantastic selection of leisure activities and beautiful historical sites of interest.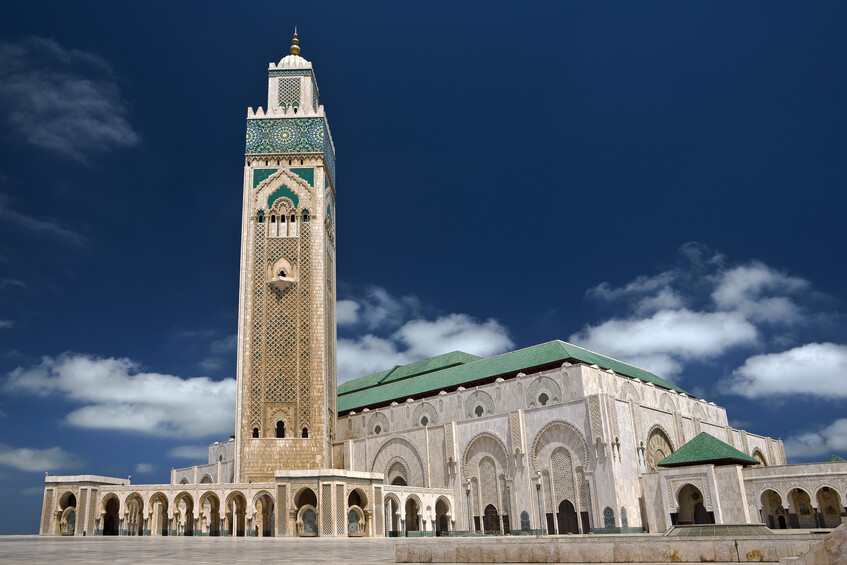 For movie lovers, the Atlas Film Studios in Ouarzazate are home to some of the most famous movie sets in cinema history, with the chance to check them out on an exciting guided tour.
The bustling city of Marrakesh is filled with incredible attractions, including Jemaa el-Fna, the city's main square and marketplace. You'll be wowed bustling souks selling authentic souvenirs and incredible street food. For a moment of peace and tranquillity as can explore the city's many idyllic gardens, including the Menara Garden.
Aside from being a famous film landmark, Casablanca is home to some of the most interesting historical attractions in Morocco, including the largest mosque in Africa, the Hassan II Mosque. La Corniche, part of the Ain Diab Neighbourhood, is another must-see attraction boasting a varied selection of shopping malls, restaurants, bars and direct access to the beach.
For holidaymakers hoping to explore the natural landscape of Morocco, the High Atlas mountain range is home to The Ait Bouguemez valley. Known as the 'happy valley' this beautiful landscape is perfect for hiking, rock climbing or getting some incredible holiday photos.
History lovers should definitely take a trip to the Kasbah of Agadir, a mountaintop fortress that was partially destroyed by an earthquake. You can also enjoy a pleasant stroll along the Corniche of Agadir, a promenade filled with cafes and restaurants, and offering beautiful views of the ocean.
Is Morocco a good destination for a beach holiday
Morocco's great weather and extensive coastline makes it a great choice for beach lovers – and the country certainly has plenty of superb sandy expanses.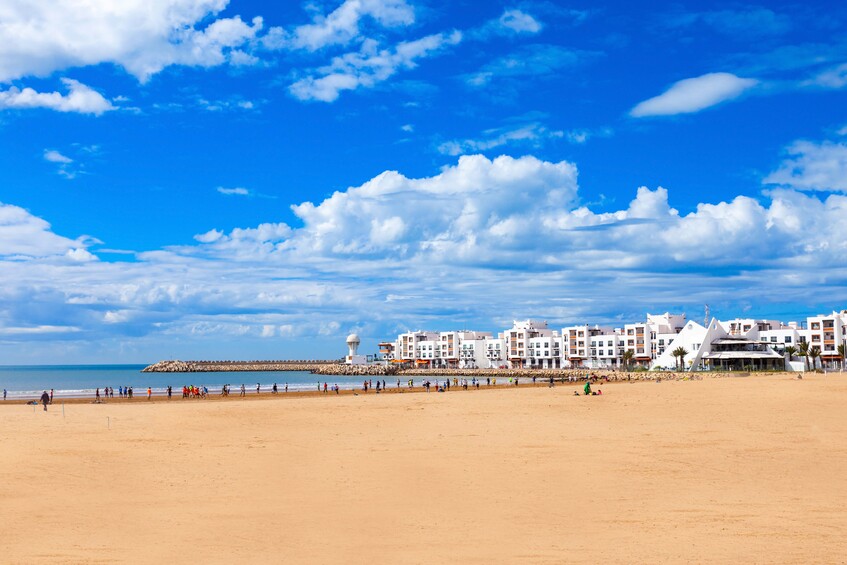 Agadir is Morocco's best beach destination, with miles of golden seafront where holidaymakers can kick back and work on their tan or take to the sea for a swim. The resort is ideal for water sports including jet skiing, parasailing and paddleboarding. The blue flag beach of Agadir is truly impressive.
Ain Diab is the most famous beach in Casablanca. This sun-soaked paradise is perfect for a more relaxing blue flag beach experience. Lounge along the shore, learn to surf, take a swim, enjoy a drink at a coastal café, or simply enjoy some celebrity spotting.
Essaouira beach near Marrakech is perfect for holidaymakers wanting some thrilling water sports action. This blue flag beach provides plenty of opportunities for many lively pursuits on the waves, as well as being a great location to catch some rays.
Which Morocco destination is best for nightlife?
Being an Islamic nation, alcohol is not as readily available in Morocco as it is in the UK. Despite this, the country is still home to a busy nightlife scene.
Marrakesh is a haven for those looking for some late-night excitement. The neighbourhoods of Gueliz and Hivernage in the Ville Nouvelle are packed with lively bars and clubs where guests can enjoy live music, traditional dancing, delicious food and party from dusk till dawn.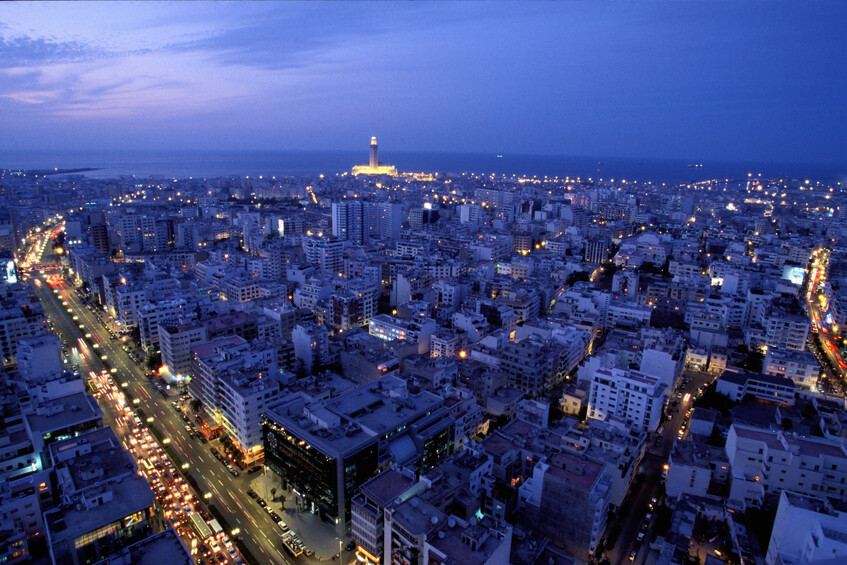 If you want a more lavish nightlife scene, Casablanca is perfect for you. The city has less clubs, but a plethora of chic bars and restaurants. Tuck into gastronomic delights as you enjoy live music and fabulous entertainment.
What culinary specialties will you discover in Morocco?
Morocco is home to incredible cuisine, with everything from delicious street food served in the bustling markets, to the tantalising dishes cooked up in the restaurants.
With couscous, Tagine is one of the most popular dishes in the country; it is a flavoursome stew often made with chicken or lamb, mixed with a selection of herbs, spices, vegetables and dried nuts. The dish is best served with soft and warm flatbread.
Harira soup is a hearty tomato-based favourite in Morocco featuring lamb, vegetables, lentils and chickpeas. It is often enjoyed as a meal to break the fast during Ramadan.
The most popular drink in Morocco is green tea served with mint. Tea-making has been considered an art in Morocco for generations and it is served everywhere you go in the country. Morocco is also known for brewing quality beers and producing some of the finest wines in Africa.
Experience the delights of Morocco for yourself. Book a magical sun-soaked African holiday today with HolidayGems.co.uk HolidayGems.co.uk.