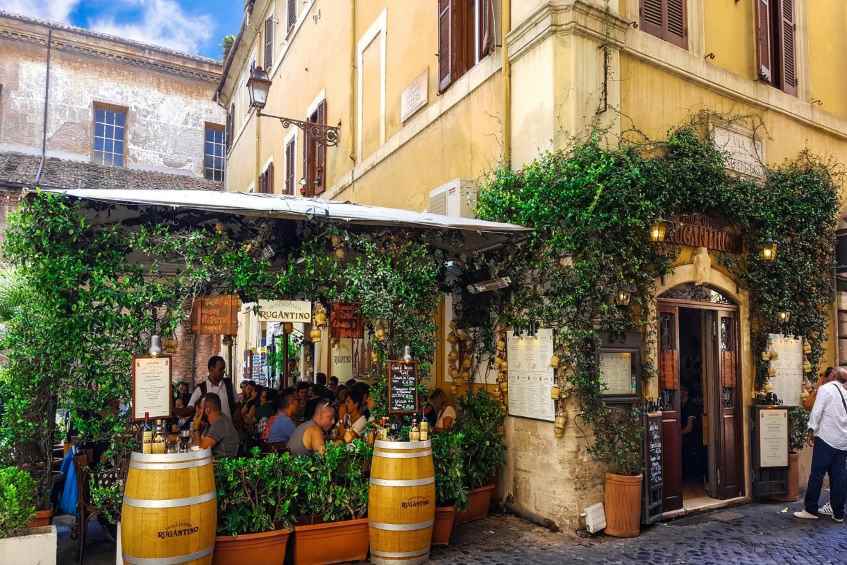 Image: kirkandmimi at
Pixabay
With some amazing cuisines on offer across Europe, we Brits are spoilt for choice when it comes to discovering what's on the menu right on our doorstep.
If you're planning a holiday to Spain, Italy, Greece or Turkey, then why not check out our list of some of the best dishes on offer in these fantastic countries.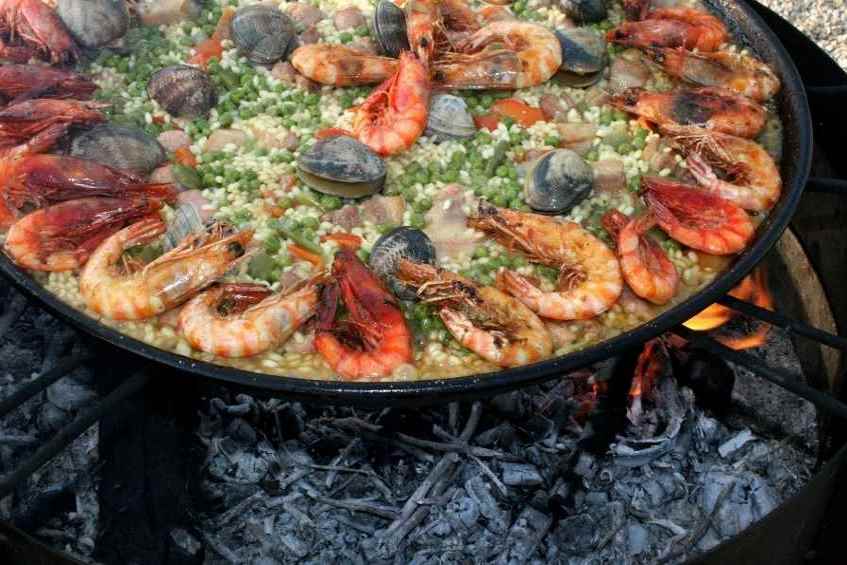 Paella - image: EstudioWebDoce at
Pixabay
Spain
With such a vast coverage of land and two separate coastlines, narrowing Spanish cuisine down to just a few staple dishes was never going to be an easy task. However, to truly experience the flamenco flavour of the country, we recommend sampling the following delights on your next jaunt south.
Gazpacho
A smooth blend of tomatoes, olive oil, garlic, bread, peppers and cucumber, this delicious dish is sometimes topped with a helping of ham in regions such as Cordoba, with a few variations across the country.
Paella
Spain's national dish, this irresistible concoction is known for its sumptuous seafood ingredients. However, the original recipe for the rice-based favourite is believed to have only featured meats (chicken, duck and rabbit) and was created in Valencia.
Tortilla Espanola
The quintessential 'Spanish omelette' is widely known to feature just three ingredients - eggs, potatoes and onions - but has more than enough flavour and popularity to outweigh the easy recipe.
Gambas al Ajillo
Translating to 'garlic prawns', this dish is a real treat, featuring juicy prawns cooked with sliced garlic and green chilli in olive oil and parsley. If this dish doesn't have you licking your fingers then we don't know what will!
Patatas Bravas
This classic dish varies around the country, with different regions adding their own touches to the well-known recipe of potatoes, Spanish paprika, olive oil, flour and stock.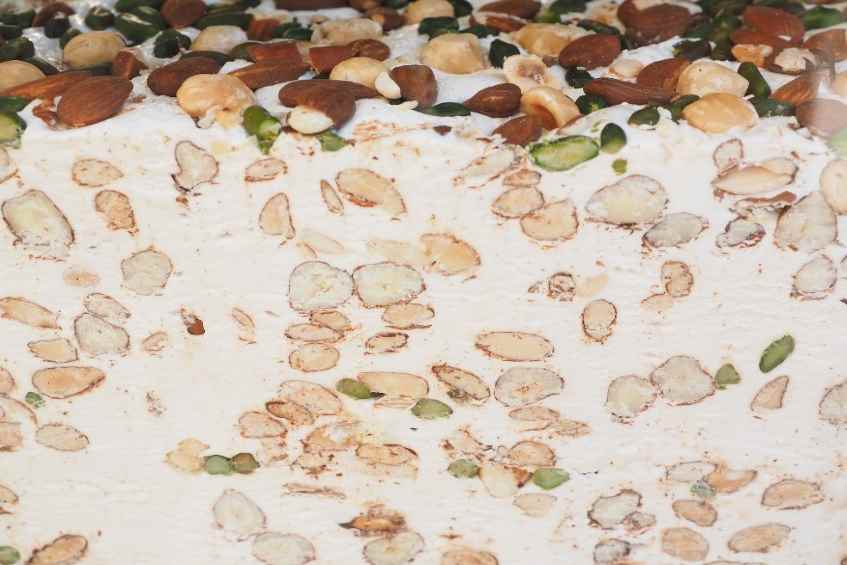 Tempting turron - image: Hans at
Pixabay
For dessert: The Spanish also have a sweet tooth, making and devouring tonnes of 'turron', a tasty treat of almond nougat, each year. They also enjoy churros, fried choux pastry coated in sugar and dipped in a chocolate sauce. These are widely eaten at breakfast.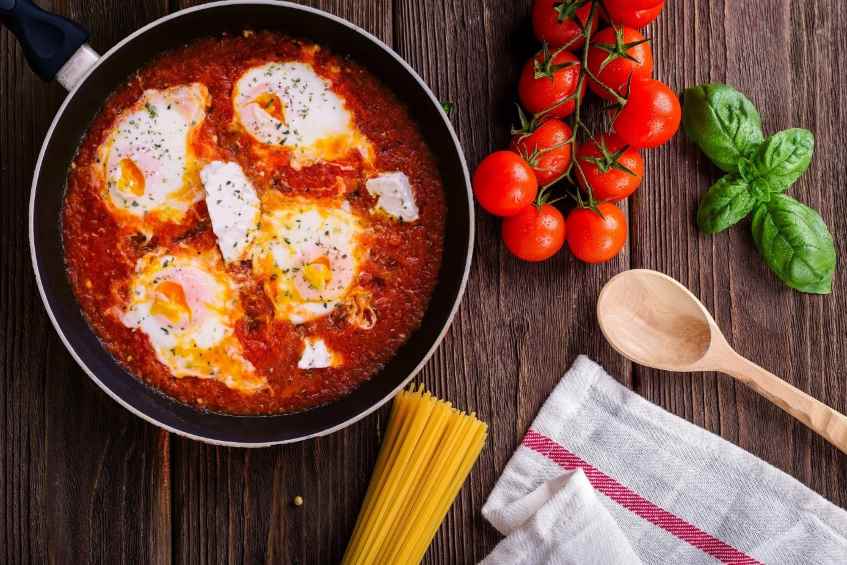 Menemen - image: greekfood-tamystika at
Pixabay
Turkey
A popular holiday hotspot, renowned for its luxury all-inclusive resorts and breath-taking beaches, the more authentic Turkey also has dishes on offer that make up a mesmerising menu. Influenced by its neighbours both in Europe and the Middle East, the cuisine in this colourful country deserves some of the limelight.
Menemen
Menemen is a cross between scrambled eggs and vegetable stew. Featuring onions, peppers, chillies, tomatoes, parsley and garlic, this is brought to a broth and then the eggs are introduced, along with a dollop of tasty garlic yoghurt to finish it off.
Dolma
Simply meaning 'stuffed', dolma is foods such as peppers and other vegetables that have been filled with a rice-based mixture of spices, pine nuts and small dried fruits, making for a simple, tasty meal.
Kebap
These renowned skewered meats are widely known in the UK as 'kebabs' with the most popular being the 'doner kebab' served over pitta and lettuce with yoghurt and tomato juice. Across Turkey, however, kebaps are enjoyed in various forms with different meats and accompaniments.
Lahmacun
Often translated as 'Turkish Pizza', Lahmacun is flatbread topped with a variety of mincemeat and seasoning.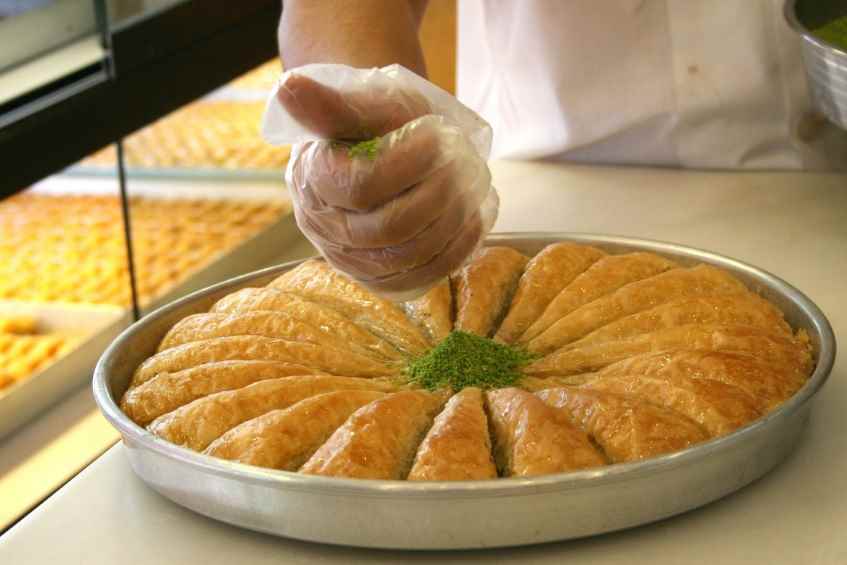 Image: hasan-cilingir at
Pixabay
For dessert: With a sweet tooth as good as any, the Turkish enjoy Baklava as their staple dessert. This rich, sweet dessert pastry is made with layers of filo pastry, held together with syrup and honey and then topped with crushed pistachio nuts.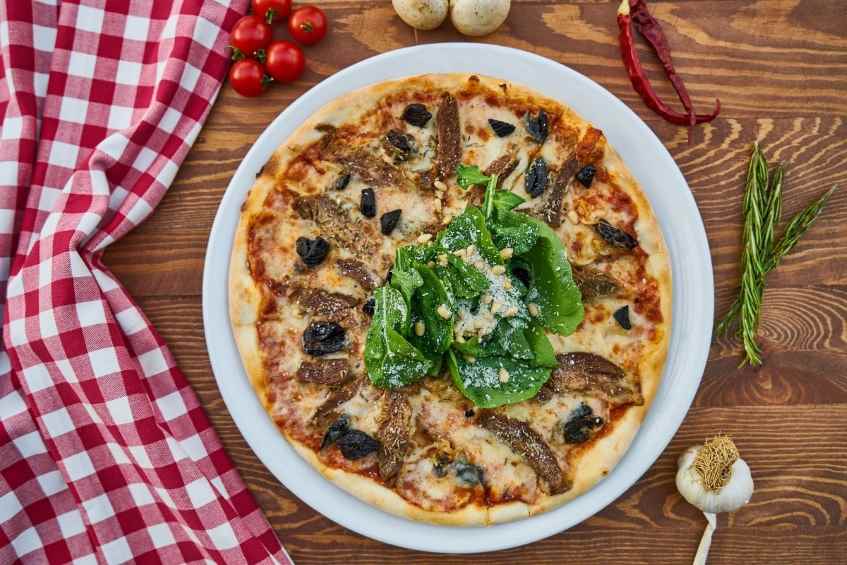 Image: Engin_Akyurt at
Pixabay
Italy
Known across the globe for its delicious cuisine, Italy is practically brimming with recipes just waiting to be tried. With renowned dishes emulated all over the world, we urge you to try them as traditional, flavourful and authentic as they come.
Pizza Napoletana
Who doesn't love pizza? Prepare to be blown away by a taste that can only be created when cooked in two different wood ovens, at two different temperatures, topped with tomatoes grown in volcanic soil and cheese from a protected destination origin. The Pizza Napoletana is best tasted in Naples, where it was apparently first made in 1889 for Queen Margherita by baker Raffaele Esposito.
Lasagne
Traditionally a warming-comfort food for Italians originating from Bologna, this dish is now loved all around the globe and it's no surprise, with it consisting of layers of meat, pasta sheets and creamy cheese sauce.
Ossobuco alla Milanese
Veal shanks cooked slowly in white wine, meat broth and vegetables, this tender meal will have you returning to Milan over and over again.
Spaghetti alla Carbonara
First dished up in Rome and consisting of eggs, Pecorino Romano cheese and black pepper, carbonara is widely considered an Italian classic and is eaten all over the world in various different forms.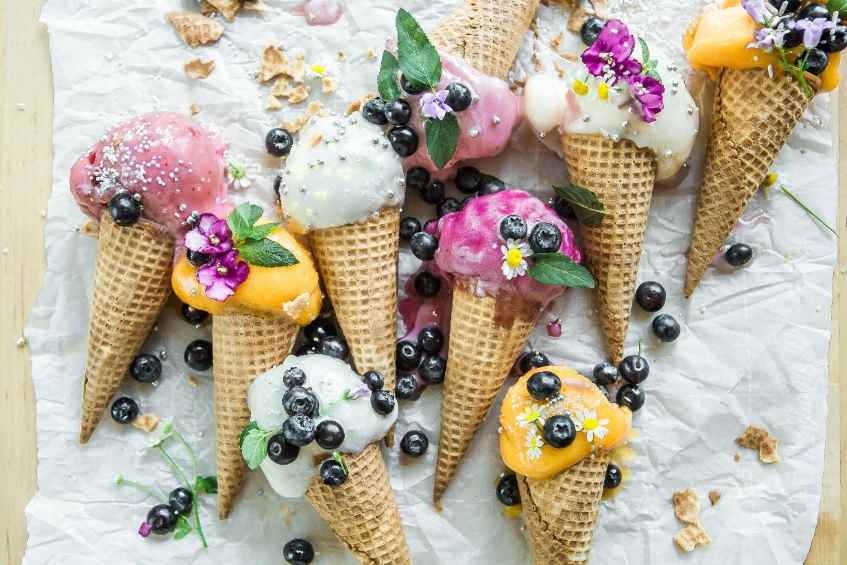 Image:
Brooke Lark on Unsplash
For dessert: Gelato, of course! Silky smooth, dense ice-cream that is rich in flavour and all the more intense when you enjoy it on Rome's Spanish steps, or in a vintage convertible along the Amalfi coast.
Greece
A holiday to Greece is full of many delights, one of which is the amazing cuisine on offer. With so many different regions putting their own spin on things, every visit promises something new. However, there are some dishes that you will definitely want to sample.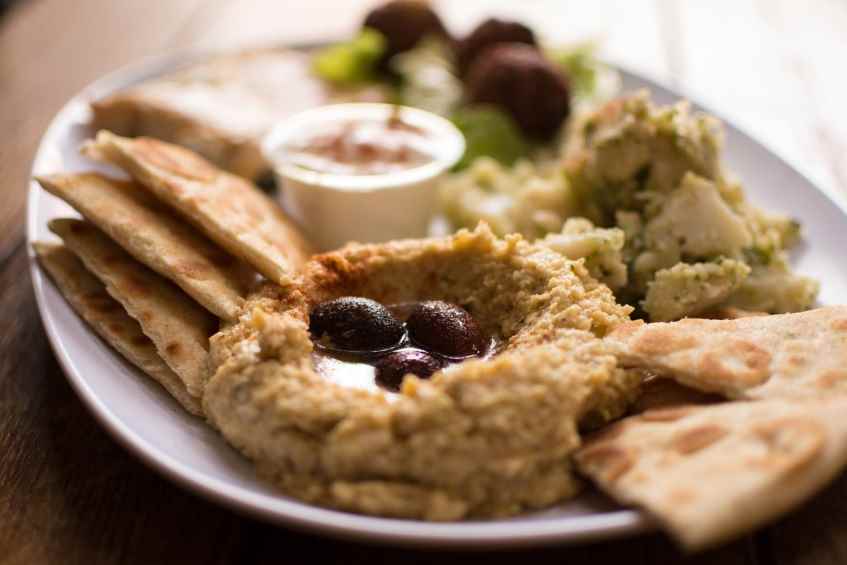 Image: jcvelis at
Pixabay
Moussaka
A hearty, oven-baked casserole of layered aubergine and spiced meat, topped with creamy béchamel, this is a frequent favourite in any Greek household.
Tiropites
Delicate filo pastry parcels stuffed with a delicious mix of Greek cheeses, these triangular snacks are often served at parties or as appetisers at authentic tavernas and restaurants.
Tzatziki
A mixture of cucumber, yoghurt and sometimes mint or garlic, tzatziki is the perfect dip to compliment warm pitta bread and grilled vegetables. Tzatziki is also delicious when served alongside grilled meats.
Spanakopita
Another Greek favourite is this classic spinach pie, made with delicate flaky pastry and filled with spinach, parsley, onions, garlic, olive oil, feta, eggs, dill weed and black pepper.
For dessert: We recommend indulging in a thick, creamy helping of Galaktoboureko! This delicious dessert is made up of custard cased in crispy, thin pastry and then drizzled with a hot sugar syrup when hot out of the oven.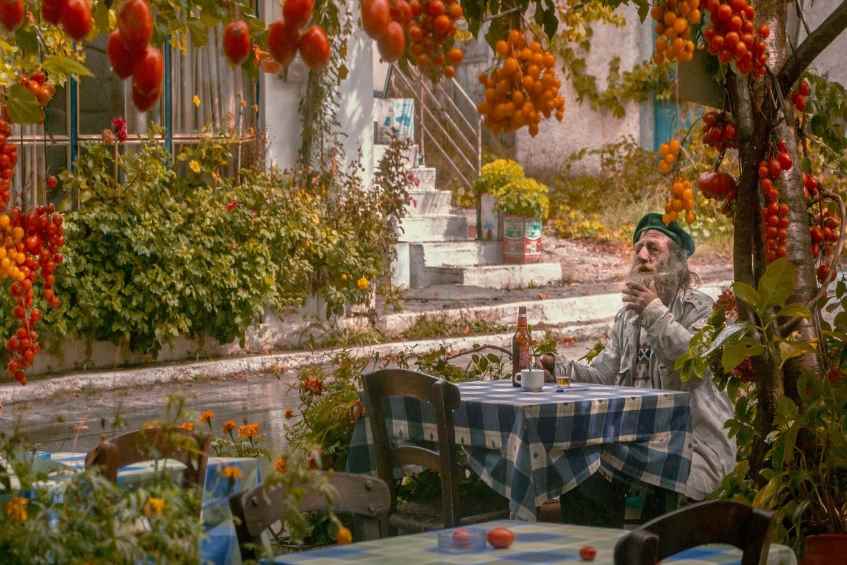 Image: lukasbieri at
Pixabay