Corfu is a destination that offers everything you could possibly want from a holiday!
No matter whether you're looking for an idyllic break away from the routines of daily life, or a couple who need some quality time together, you will be sure to find your answer in the beautiful beaches and stunning landscape of this Greek island gem.
But what can you expect to find when you pay a visit to Corfu?
One thing's for sure, you'll find a wide variety of beautiful beaches that are just waiting for you to explore. From safe resort sands, to those hidden away, you will always be rewarded with stunning golden sands and crystal clear waves lapping lazily on the shore.
In the villages and towns you will find a variety of cobbled streets, with boutiques, restaurants and hidden patches of history just waiting for you round every corner.
Away from the beaches and lazy days, Corfu is also a place of vibrancy and life. Water sports provide those seeking a splash of adrenaline with the fix they're looking for.
The nightlife in Corfu is also something not to be forgotten, with bars and clubs aplenty all waiting for you to dance the night away!
You can also turn explorer and take a visit to Mount Pantocrator by jeep. This wonderful setting gives you the opportunity to take in a 360 degree view of the landscape and scenery that Corfu has to offer.
Corfu isn't just a modern marvel, with a rich Venetian and British heritage behind it, there are some truly interesting ancient monuments that you can discover; learning more about the fascinating background of those who live there.
When you take all this into account it's easy to see why Corfu is as incredibly popular as a summer holiday destination for those looking for a sun soaked, fun break and equally those who love nothing more than being steeped and surrounded in the wonder of history. Corfu has something for everyone, in beautiful surroundings; what more could you ask for?
So go ahead, discover the beautiful Greek island of Corfu for yourself!
We've teamed up with online fashion store Need That Look and they've put together this lookbook of items perfect for an Corfu holiday below. Keep an eye out on the Holiday Gems Facebook page for a very exciting competition coming soon where you could win a holiday and new holiday clothes from Need That Look!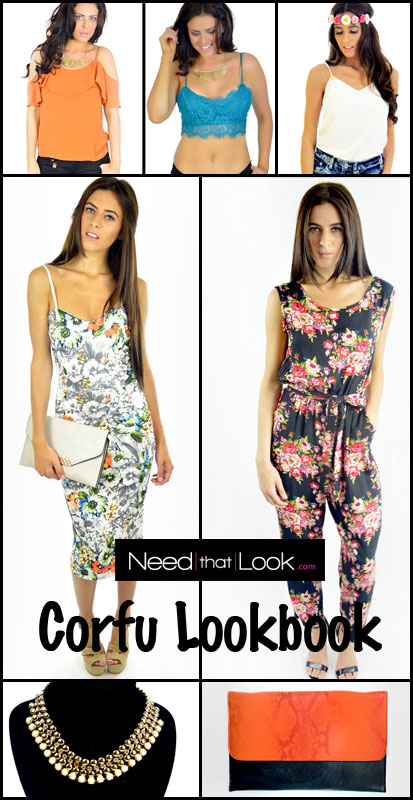 Corfu items:
Orange peplum vest top – http://www.needthatlook.com/orange-peplum-vest-top/
Teal eyelash lace bralet – http://www.needthatlook.com/teal-eyelash-lace-bralet/
White embellished vest top – http://www.needthatlook.com/white-embellished-vest-top/
Kimberly floral bodycon dress – http://www.needthatlook.com/kimberly-floral-bodycon/
Harmony black jumpsuit – http://www.needthatlook.com/harmony-black-jumpsuit/
Gold and cream row collar necklace – http://www.needthatlook.com/gold-and-cream-row-collar-necklace/
Orange snakeskin clutch bag – http://www.needthatlook.com/orange-snake-skin-clutch-bag/