What is a blue flag beach?
A blue flag beach is a beach that meets the standards of the Foundation for Environmental Education.
Here are the 10 best blue flag beaches in Europe.
Golden Sands Beach, Bulgaria
Located in Bulgaria, Golden Sands Beach is famous for having the purest sand on the Northern Black Sea coast.
The lush green hills that surround the beach, the soft golden sands and warm turquoise waters make this beach one of the most visually stunning areas in Bulgaria, and one of the most beautiful coastal retreats in Europe.
Baska Voda Beach, Croatia
Baska Voda Beach in Croatia is a stunning hotspot for both tourists and locals alike.
The palm shaded beach is awash with stunning white sands and clear, turquoise waters and is the perfect place to paddle or cool off.
Myrtos Beach, Greece
Often described as 'one of the most dramatic beaches in Greece', Myrtos is made up of round, white cobblestones and lies between the feet of two mountains, Agia Dynati and Kalon Oros.
Myrtos has been voted the best beach in Greece 12 times, and has been featured on the front of countless guidebooks.
Often referred to as the 'Golden Cape' or the 'Golden Horn', Zlatni Rat's unique appearance make it one of the most recognisable beaches in Europe.
The waters here are crystal clear, and the soft afternoon breeze, called the Maestral, makes this beach a hotspot for windsurfing.
Playa de Muro, Majorca
This six kilometer long beach is generally a lot quieter than its exotic neighbour, Alcudia beach, making it more popular with couples and solo travellers.
Playa de Muro beach is made up of fine, soft sands that lead into warm, shallow waters. However, this beach is less sheltered than others in Majorca, and for this reason can be subject to some bigger waves – great for surfers, not so great for toddlers.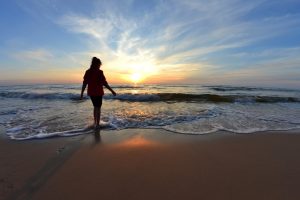 Praia de Baleeria, Portuga
l
This sandy beach is located in the popular Algarve area of Portugal, and overlooks Sagres Bay, making it a great place to sit and watch the boats go by.
It's worth noting that, to reach this beach, you will have to go down 140 steps, making it less than ideal for disabled travellers.
Calo des Moro, Majorca
This secluded beach may be small, but what it lacks in size, it more than makes up for in beauty.
Located 6 km away from the beautiful town of Santanyi, Majorca, the soft white sands and crystal clear waters here are reminiscent of those thousands of miles away in the Caribbean.
If you go to this beach during peak season, it will be busy. But, if you choose to visit during less popular times, you will find it to be untouched – a little slice of paradise.
Turquoise Coast Beach, Turkey
The stunning golden sands of the Turquoise Coast Beach in Turkey stretch over 19 km, and is the nesting place of many endangered loggerhead turtles.
Turquoise Coast Beach has national park status, meaning that it has remained largely undeveloped. This means that it's natural beauty is undisturbed, creating the perfect backdrop for your day in the sunshine.
Navagio Beach, Greece
Navagio Beach, or Smuggler's Cove as it is sometimes known, is a stunning white sandy beach on the island of Zakynthos in Greece.
This beach, which many believe to be the most famous one in Greece, can only be accessed by boat, but is well worth the trip.
The unique attribute about Navagio beach is that it features an actual shipwreck. The boat was shipwrecked in the 1930s after being chased by the authorities for smuggling illegal items.
Navagio Beach is at its busiest between 10am and 2pm.
Maspalomas Beach, Gran Canaria
Geographically Gran Canaria isn't in Europe, but the Canaries are part of Spain so we thought we'd add it anyway!
Maspalomas is a beautiful sandy beach with stunning turquoise waters. It's divided into four zones: the first is best for children and families, the second and fourth are nudist-friendly, and the third is popular with the gay community.
This is a lively beach, with lots of sporting activities, bars and restaurants, so it's perfect for relaxing and socialising with friends old and new.